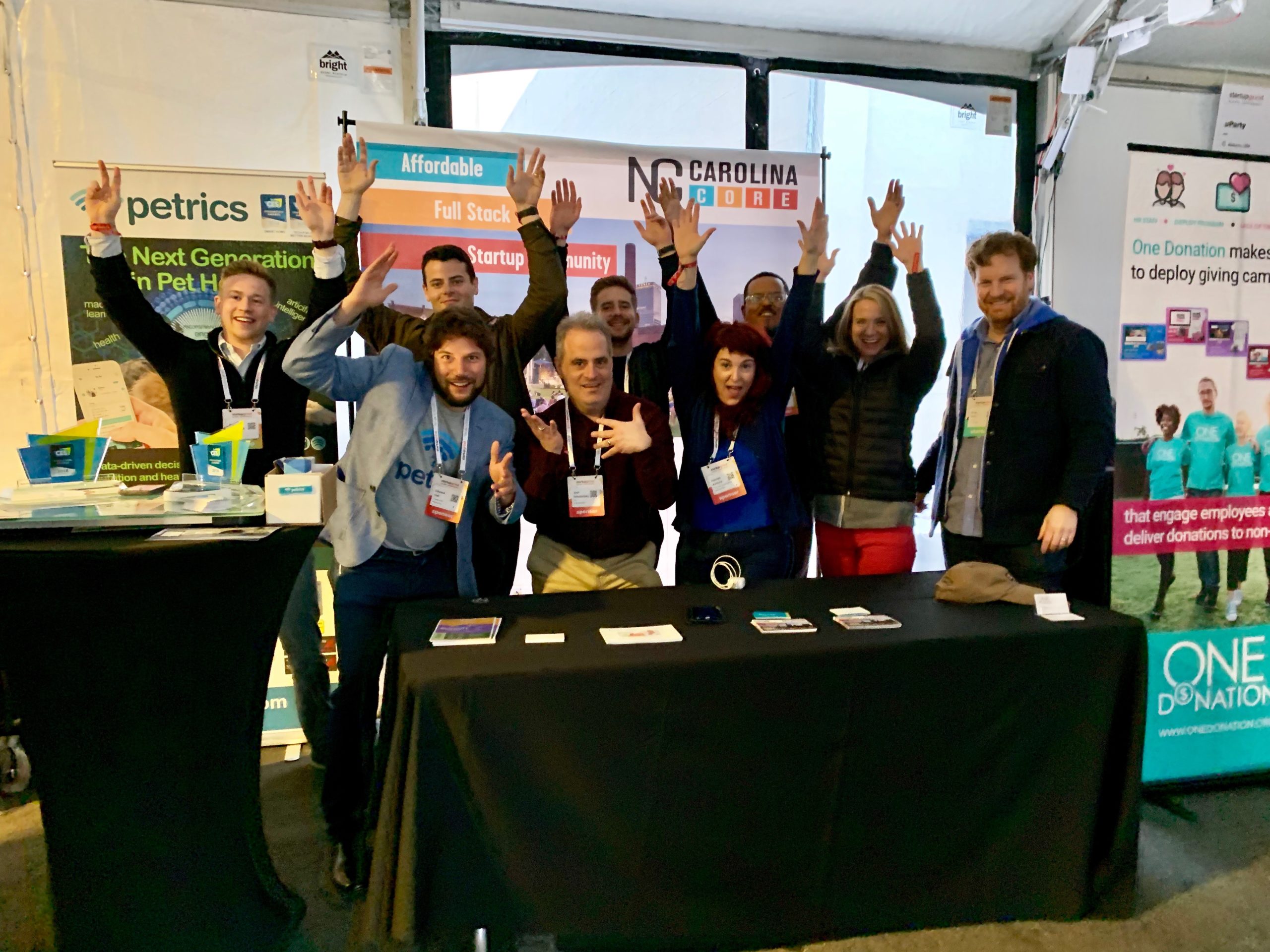 Last February, ten startup founders left North Carolina and flew to Silicon Valley.
They knew the numbers: 80,000 attendees, 200 exhibiting startups from 32 countries, and 180 investors—making Startup Grind Global Conference among the largest and most diverse tech events in the word. 
They knew they were entering, in the words of SWIPEBY founder Carl Turner, "global mecca"—but not what to expect. Specifically, how mecca would receive them.
What rides on a $5,000 conference ticket to Silicon Valley? To an individual founder, SG Global holds the possibility of the one meeting with the one investor who could make the difference. "You hope for the one lucky punch," Turner says.
Besides network exposure, the value of SG Global is a transfer of energy and inspiration. "It was palpable—you could feel the buzz," Wellnecity founder John Quinn attests. "It pumps you up around what you're doing with so many business models in one room."
But there's another dynamic to Startup Grind Global. It's an invitation to the 600 chapters of SG: Gather your local stars. Bring them to the global stage. As an ecosystem, show up. 
How North Carolina Shows Up: The Delegation
Out of the 600 SG chapters worldwide, four belong to the North Carolina Triad region: Winston-Salem, Greensboro, High Point, and Lake Norman. 
Like the other 600 chapters, the Triad SG chapters hold events throughout the year focused on nurturing the local startup ecosystem. The idea is that shared knowledge and shared experience help founders build their business, secure funding, and stay the course.
Uniquely, the Triad-based founders arrived at the conference last year not as individuals alone but as a delegation—organized by the chapters' co-directors. 
Meaning, in the sea of tents, 8,000 visitors saw a block of Triad-based companies. What they saw was a representation of a thriving ecosystem back home.
Fluree founder Brian Platz recalls only a few other American blocks, with more group representation hailing from outside the U.S. 
Although Platz arrived a day before the rest of the group (Fluree was chosen as a Top-50 company for the SG Global Acceleration program), he saw the North Carolina delegation as a statement of viability to investors who, right there in Silicon Valley wondered aloud,
"Can you start a blockchain database company in North Carolina?" 
The answer, Brian said, is yes. And the visual impact of a delegation supports that.
In the same spirit of community representation, the four Triad region chapters of Startup Grind have officially accepted the 2020 invitation.  
Confirming We're Not Kansas Anymore
As a returning member of the Triad delegation, Turner (of SWIPEBY) knows what it's like to walk into a room of 100 entrepreneurs when you're used to a peer group of 10. A little like jumping into "cool waters."
Turner already has a full schedule of meetings surrounding the conference this year. Many of those contacts he met at SG Global 2019, which proves how crucial it is for founders to leave the small pond and be a guppy in the vast, cool waters of Silicon Valley. 
There's no substitution for witnessing, first-hand, the Silicon Valley-level of performance. That's why a founder most leave North Carolina and go. 
But as valuable as it is for a founder to experience the "we're not in Kansas anymore" moment, it's clear: We're not Kansas anymore. There is a reverberation between the buzz of Silicon Valley and the buzz of North Carolina—due in part to the reciprocal network of Startup Grind.
A recent presentation by Inmar CEO David Mounts highlighted what AOL founder Steve Case spearheads as "The Rise of the Rest"—the increasing attractability of secondary markets, like Winston-Salem:
Last year's Triad founders got a glimpse of their homebase's increasing attractability at SG Global—through the eyes of interested west coast investors and home-hunting founders alike. 
This year's delegation will again get Silicon Valley up to speed on the ecosystem's developments.
Eyes On SG Global 2020
The Triad delegation for SG Global 2020 includes:
Greenhill AntiBallistics Corporation – Force Disruption Platform (Judy Lee Greenhill and Zachary Greenhill) 
Hay Trabajo (Elizabeth Escobar Hurtado)
The founders will be traveling on momentum from their successes within the Triad ecosystem this year. "Once you're included in this ecosystem, you can be anywhere," says Greenhill AntiBallistics Corporation cofounder Judy Lee Greenhill.
They're also traveling on the buzz of anticipation that comes from knowing: you're about to get hundreds of immediate reactions to your best idea. For Dan Driscoll and his Get Patch team, the conference is a chance to have those honest feedback conversations with investors in high concentration.
And like last year, the Triad SG chapter co-directors have a community goal: to underwrite the conference ticket for each of these growth-stage companies, $3,500 (of the total $5,000 ticket cost) per company.
With investments from local individuals and organizations—from people who see North Carolina's place on the global startup stage and know the Triad's absence would be an omission—the Triad SG chapters can, in fact, show up to Silicon Valley in 2020. And what's more? 
That buzz, that affirmation, that golden opportunity—they'll bring it all home.