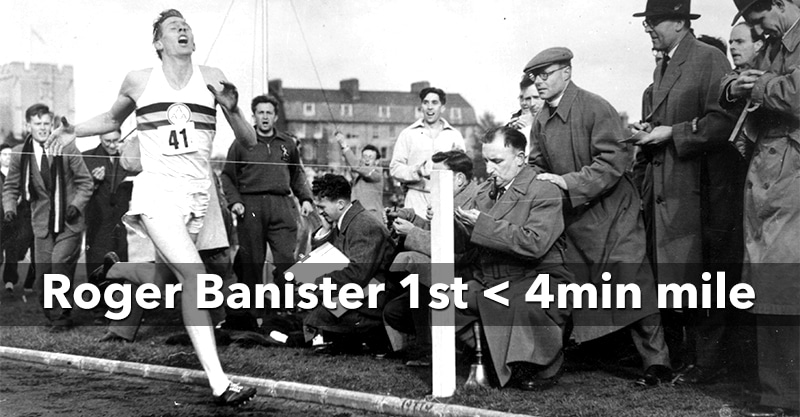 Breaking all kinds of records at work!!
In 1954 Roger Bannister broke the first sub -4 minute mile, prior to this accomplishment, doctors and scientists argued that the human body was not physically able to break the record and that the body would combust and the runner would die.  Once Bannister broke the record, numerous other athletes followed that same year.  Now, the record continues to be broken regularly. What is the environment that creates the desire to break records and push yourself to this extreme to improve yourself?  Why is it that individuals and teams don't work with passion and purpose at their workplaces like athletes on the track? When is the last time you put this much effort into breaking your own records at work?
Brand & Marketing
Catalant continues to explore renaming, and they must consider both legal and marketing considerations. I think the analogy of breaking records is a message their target audience responds well to, they tested it last night at Idea Tap.
Criteria for the new name has been set and over 300 new names have been evaluated in both number of characters, current trade marks, future use, URL and domain exclusivity.
Chief Technical Officer – CTO
Catalant has been immersed interviewing and vetting a new CTO. The candidate selection has been narrowed to a single finalist and contract negotiation has been initiated. More will be revealed on this core team addition in the coming weeks.
New Online LIVE Demo
A live demo has been created to improve customer development by allowing prospective customers to experience fully customized deployments on the web.  As a result, they have seen an improved success rate in closing sales faster as prospective customers can immediately visualize what the future state will look like. The version of the Catalant App Live includes real employee names, actual tasks/products that are produced at their facilities, and real life dashboards.
Product Development
Based on customer experience (CX) they have improved the leadership reporting section of the product to allow for effective labor utilization analysis. The messaging feature now enables in-app communication between individuals and teams for rapid action and a new reject accounting feature streamlines the overall accuracy of the user experience.
Customer Development – July
1. New customer pilot:
After just one week on Line 1, they expanded to two additional Lines
2nd and 3rd shift teams have been trained on the system
Huge engagement from upper leadership in the product
2. Successful purchasing/procurement conversations with a current customers large site in Greenville, NC. Indication is that two additional departments will be signing on in August with 150 new subscribers.
3. Completed seven on-site demos with new prospects in July and closed new one contract, delivered three additional agreements proposals.
4. Targeting 10+ additional demos in August