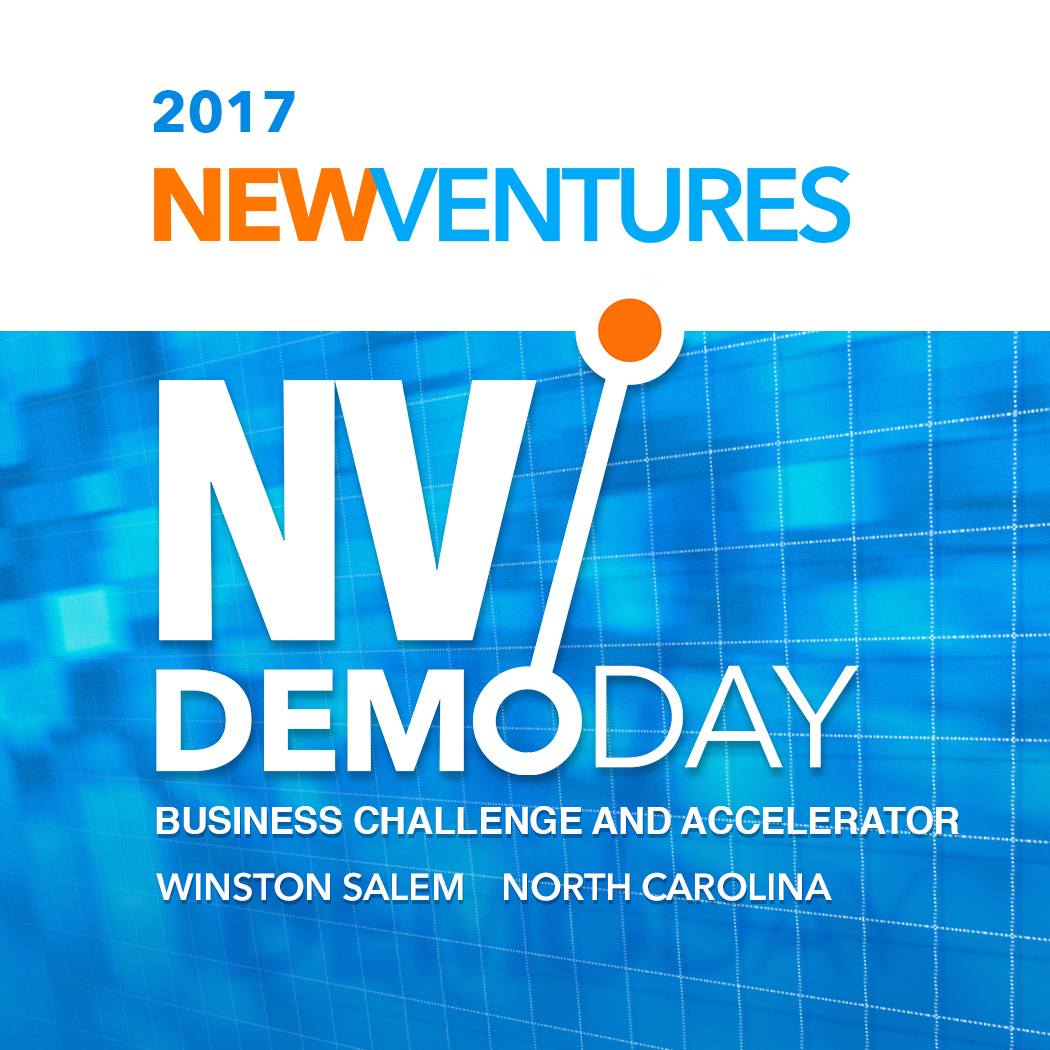 More than 30 Start-ups have registered for New Ventures Demo Day.
September 8, 2017, will be remembered as a milestone event for the Triad Startup community.
Not because Demo Day is a pivotal moment for all start-ups. Rather it has grown into a showcase for ALL the regional startup activity and programs in general. We invited all of the region's inception stage start-ups to apply for 32 demo tables at the event, to showcase their companies and increase the networking draw for investors. The demo tables sold out in less than a week.
You can register to attend Demo Day here. 
Now we are witnessing the kind of traction that all new startup communities seek, with 32 demo tables of aspiring tech startups and 200 community members showing their enthusiasm and support, and millions of dollars of investment capital raised – we are well on our way toward leading the Triad into the new innovation economy.
But there is more because, in addition to opening the event to regional start-ups, Flywheel New Ventures has invited many of the primary acceleration and active angel investment organizations to make main stage presentations as well. Peter Marsh feels strongly about the inclusion of these program partners because they bring an abundance of resources to the Triad Region startup community.
So now we have a sort of critical mass event taking place at New Ventures Demo Day: Startups, Developmental Programs and Capital.
Developmental organizations participating in the event with program updates will be:
Wake Forest Innovations – Eric Tomlinson
Emerging Entrepreneur Funds – Allan Younger
Venture South (angel investment network) – Malay Shah
NC Idea Foundation (seed grants) – Thom Ruhe
Idea Fund Partners – (seed stage investment fund) – Lister Delgado
Venture Café – (venture networking) – Karen Barnes
Launch Place (accelerator and funding) – Kelly Fitzgerald
Launch Greensboro (accelerator and education programs) – Lou Anne Flanders-Stec
Creative Startups Accelerator – Margaret Collins
The online publication Exit Event collaborated with New Ventures to host a Startup Social at Wiseman Brewery starting at 5:30 following the Demo Day event, giving all of the startups a chance to relax, celebrate, and network.
The 2017 New Ventures companies representing on the main stage will be:
ARXCHITECT – Winston Salem, NC  – Cofounders: Nate Peaty and Adam Orsborn
Arxchitect is an advanced healthcare systems integration software that empowers health-system leaders to easily visualize, optimize, and customize their rapidly expanding portfolio of pharmacy automation systems, regardless of vendor, from a single solution.
Funeral Insider – Winston-Salem, NC – Founder: Jay Requarth
Funeral Insider is a web based concierge service helping customers navigate the requirements and options for following the death of a loved one and offering competitive pricing through comparative current pricing of funeral services, burials, and cremations.

WineAmp – Durham, NC and Los Angeles, CA – Cofounders: Nick DeNitto, Matthew Bowers, Keith Hoerling
WineAmp is a company founded to design, produce, maintain, and improve branded native mobile apps for wineries tailored to their specifications. Wine Amp automates the wine club process and CRM.
Yaynay – Greensboro, NC – Founder: Curt Meinhold
Yaynay an application that supports reputation management for small business.  It searches and collects sentiments expressed about brands, brand experiences and events on the web and social media and uses language algorithms to create positive or negative score rankings over time. It is a simple, but powerful idea that captures user feedback while users are actively engaged with products, processes, interfaces, or events. It allows companies and service providers the data they need to develop their reputation management strategy.
The Triad Startup regional community of companies in the Demo area will include:
New Ventures is an investment club composed of successful Triad area entrepreneurs who collectively invest in the challenge, the selected companies, as well as the accelerator. Each year the club raises $350,000-$500,000 to invest in up to eight inception stage startup companies.
This is New Venture's second annual business idea competition, accelerator and Demo Day capstone event. The program focuses on software and hardware ideas that intersect with the Triad's regional vertical domains like healthcare, biotech, aerospace, logistics, arts, and many others. Details about the competition and accelerator can be found at www.newventuresnc.com.
"This year's results and excitement around Demo Day show that the startup minds are active, engaged and in search of mentors and a community to help them grow and flourish", adds Brad Bennett.
New Venture's role as an inception stage fund means it typically provides the first outside capital for a startup. Joel Bennett, the director of the New Ventures Accelerator explains that, "New Ventures was the first acceleration program in the Triad to offer pre-seed money to startups."
The finalist teams from the business competition attended a preparation session at Flywheel on April 22nd to get ready for the second round of the competition, receive coaching from the investors, and begin pairing up with mentors.
The final round took place at Biotech Place on May 6th when they presented their business and investment thesis to the assembled club of investors. The investors received detailed briefing packages on the companies in advance to prepare for the day-long session before voting and selection. Each company had 5 minutes to pitch and 5 minutes to respond to questions.
"New Ventures 2017 has a much broader investor geography this year with more participation from throughout the Triad", said Peter Marsh.  "All of the New Ventures investors actively participate in all investment decisions and really look forward to the excitement of Pitch Day."